Students in Mr. Hutchinson's 6th grade social studies class used Minecraft.EDU to create Mesopotamian city states for their first quarter project. The goal of the project was to get students to creatively design a specific city assigned by Mr. Hutchinson. Each student needed to include key features in their city such as the Hanging Gardens of Babylon, the Great Library of Nineveh, or the Lion Statue of Tarsus. Students were also assigned to teams which were key Mesopotamian civilizations. They were the Sumerians, Akkadians, Assyrians, Babylonians, and Persians. Students could individually build their own city, but they worked as a team to discuss ideas and use similar blocks to make their cities similar so they could be identified as the same civilization.
Students were originally assigned three workdays to complete the project. However, they were using their time effectively and Mr. Hutchinson was so pleased with the results that he added a fourth day to the project. Students were thrilled with the time extension to finish their cities.
In tight competition, students from each team created impressive cities. Dylan Tanner and Brooklynn Svoboda-Cobb built impressive cities for the Sumerians. Finn McGraw constructed a very realistic Great Ziggurat of Ur (The most historically accurate Ziggurat of any student). For the Akkadians, Natalie Allweiler constructed the city of Mari with a trading post. Grace Roberts built the city of Nippur with a sheep farm to illustrate her city's economic development. On the Assyrian team, Donna Kear built Nineveh and even included a siege tower to represent the Assyrian's militaristic society. Angel Serrano built the city of Haran with another very impressive Ziggurat and Ariana Wolfe built a great city with houses in her walls (a historically accurate decision). The Kaylie Copeland on Persian team built a large city with a barracks to represent the Persian immortals (the elite Persian fighting force) and Kenny constructed a palace and ziggurat at a massive scale. Despite these great cities, The Babylonian team won with Alivia Keitel's amazing Hanging Gardens of Babylon and Raiden Grove's impressive Lion statue of Tarsus. Mr. Hutchinson was thrilled with all the students who put forth great effort in this project.
While students applied their creative skills with Minecraft.EDU, they also developed an understanding of geography. They learned how important rivers are to the development of cities. They also learned about the wide scope of Mesopotamian religion as they built many large ziggurats. They also understood key characteristics of their civilization. They learned that the Babylonian Hanging Gardens was a wonder of the ancient world that Sargon II of the Akkadians destroyed the pillars of Sumerian cities to unite his Empire, and they learned of the importance of walls to defend their cities from invasion. These key ideas will inform the students as they continue to learn about the Egyptians, the Greeks, and Roman civilizations as each of these Empires constructed their cities in ways similar to those of the Mesopotamians.
Below are pictures of the students' work:
The Winning Creation was Alivia Keitel's City of Babylon!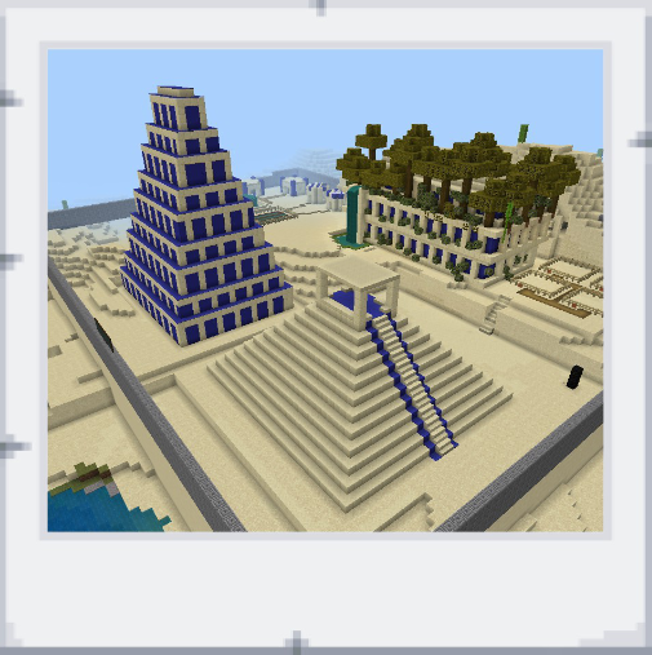 Kenny Hoty's city of Sardis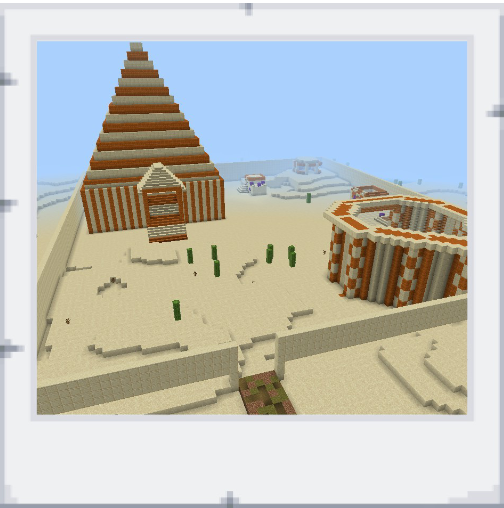 Kaylie Copeland's City of Ekbatana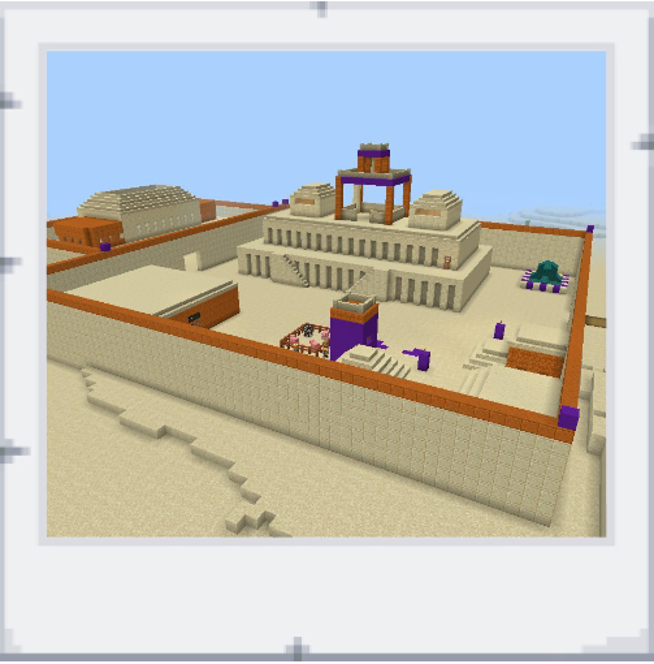 Ariana Wolfe's City of Carchemish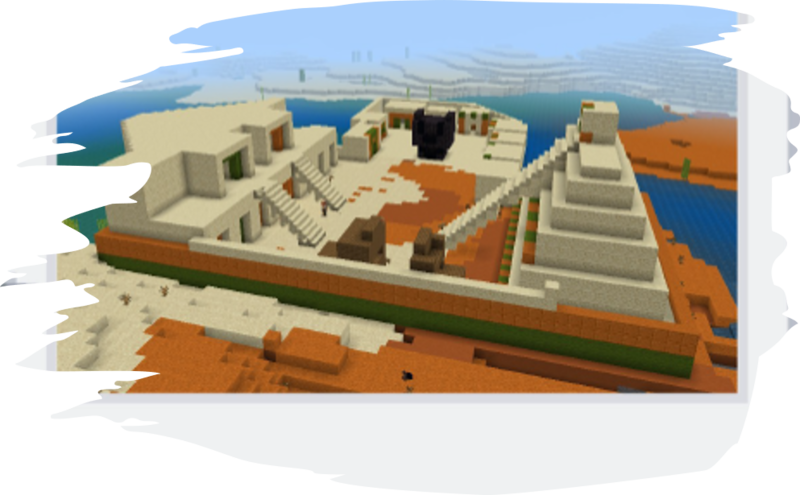 Finn McGraw's Ziggurat of Ur
Natalie Allweiler's City of Mari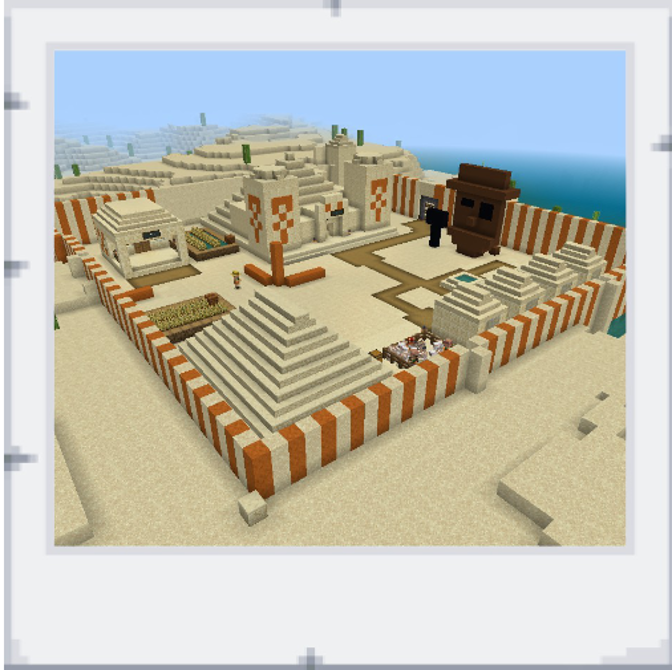 Raiden Grove's City of Tarsus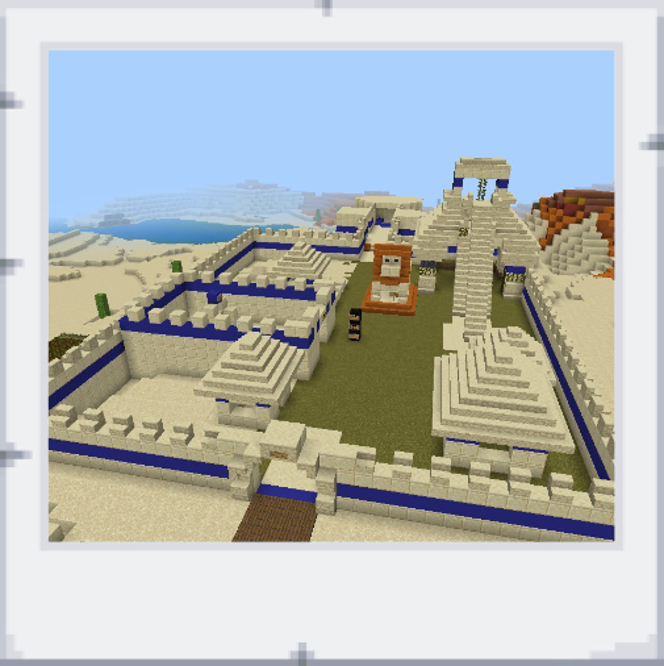 Grace Roberts' City of Nippur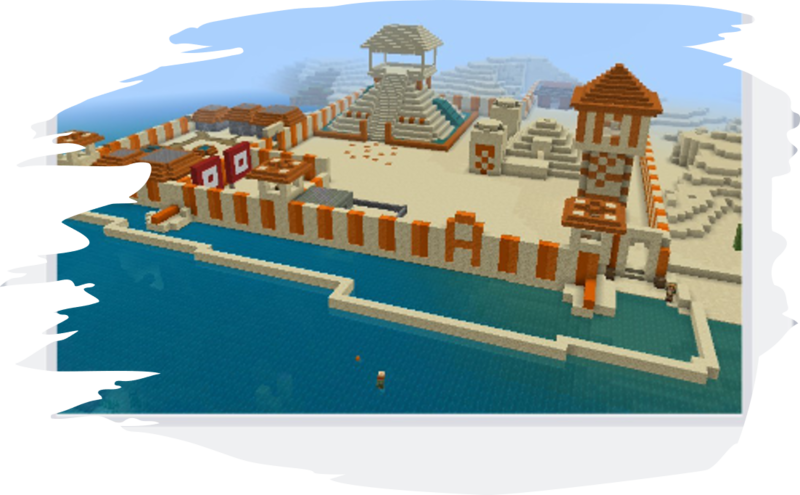 Donna Kear's City of Nineveh